"Love is" Affirmation Candle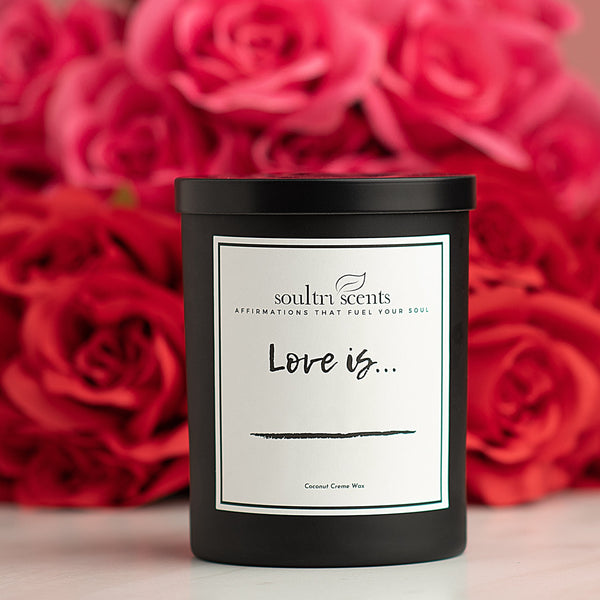 "Love is" Affirmation Candle
The "Love is" Affirmation Candle was designed to help you express what love means to you. Each candle comes with space for you to write what you want to affirm about love. This is the perfect gift for the special person in your life.
Candle Size: 12 oz
Burn Time: Approximately 50 hours 
Notes: Rose, Exotic Tonka Bean, Dark Musk, Sandalwood and Amber.
LOVE SPELLS
This is the most wonderful thing i have ever experience in my life, My name is Myers Ann, I never thought I will smile again, My husband left me with two kids for one year, All effort to bring him back failed and i was desperate to bring him back home I thought I'm not going to see him again not until I met a lady called Miller on Facebook who told me about a spell caster called Dr.jude, She gave me his email address and mobile number and I contacted him and he assured me that within 48hours my husband will come back to me, i feel happy already when i had that from him, In less than 48hours my husband came back started begging for forgiveness saying it is the devils work, so I'm still surprise till now about this miracle, because it just too real to be real I know so many lady are at there with the same problem of my but i tell you today that there is a solution for it.for anyone who need his help here it is Email adress; (virgolovespells @ gmail.com )or Whatsapp him on. +. 2. 3. 4. 7. 0. 5. 1. 0. 5. 2. 1. 5. 4 
LOVE SPELLS
My Dear friends online, My name is Amanda Bella And i live in USA, ohio, I have to give this miraculous testimony, which is so unbelievable until now. I had a problem with my Ex husband 2 years ago, which led to our break up. I was not myself again, I felt so empty inside me, my love and financial situation became worse, until a close friend of mine told me about a spell caster who helped her in the same problem too. His name is Doctor Jude. I emailed the spell caster and I told him my problem and i did what he asked of me, to cut the long story short. Before I knew what was happening, less than two days later my husband gave me a call and told me that he was coming back to me. I was so happy to have him back. The most interesting part of the story is that I am pregnant. Thanks to Doctor jude for saving my marriage and for also saving others' own too. Continue your good work, If you are interested to contact the great spell caster email address: virgolovespell @ gmail.com or contact him on whatsapp +. 2. 3. 4. 7. 0. 5. 1. 0. 5. 2. 1. 5. 4 or his website; Virgolovespell.weebly.com
love spell
This is a testimony that I will tell everyone to hear. i have been married for 3 years and on the fourth year of my marriage, another woman had a spell to take my lover away from me and my husband left me and the kids and we have suffered for 2 years until i meant a post where this man DR IBOZUA have helped someone and i decided to give him a try to help me bring my love Husband home and believe me i just send my picture to him and that of my husband and after 48 hours as he have told me, i saw a car drove into the house and behold it was my husband and he have come to me and the kids and that is why i am happy to make everyone of you in this similar situation to meet with this man and have your lover back to your self, His email: [****] or you can also contact him via whatsapp on this [****] thank you so much DR IBOZUA for saving my marriage.
how i got my lover back
Thanks to Dr destiny for bringing back my ex husband, after fighting and he decided to divorce me and left with a different woman. he left me and the kids alone living us with nothing, but when i contacted dr destiny he decided to help me and he told me what to do. i did what he ask because it want easy trusting him but i did trust him. but thanks be unto him after 2 days i received a call from my darling husband begging me to come back, and told me he mad a very big mistake. contact dr destiny today email him ([****]) or whatsapp [****]
get your husband back home today
I feel so blessed again in my marriage after Doctor Olu brought back my husband that separated with me for good 3 months. Even though I have mouths all over my body, it won't be enough to thank Doctor Olu for his help in my life. My husband separated with me for 3 months and has been in pain and agony without him. So, I searched for help everywhere but nothing worked out not until I meant Doctor Olu who I contacted online. I explained my situation to him and he promised that my husband will get back to me within 72 hours so that my heart still beats for him. I believed in him and he prepared a spell for me and my husband called me exactly when Doctor Olu said. He pleaded and said he needs me back and now we are living happily again for the past 9 months. Everyone out there reading my article that needs help should contact him... Email: drolute mple001@ gmail.com or WhatsApp number:[****]
https://www.facebook.com/drolu97