Soultri Scents - Naturally Infused Body Butter(2 oz)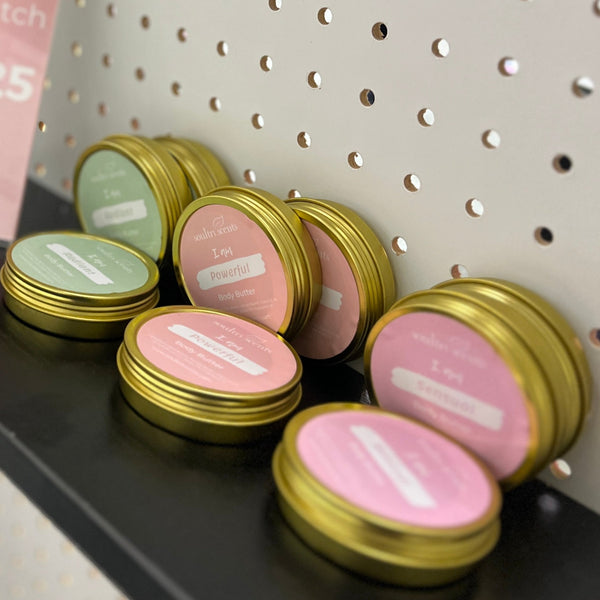 Soultri Scents - Naturally Infused Body Butter(2 oz)
Handmade body butter crafted to moisturize and hydrate your skin. Made with Shea Butter, Mango Butter, Coconut Oil, Jojoba Oil, Apricot Seed Oil and Fragrance Oil
Scent Options:
Soultri-

 Sweet and Soultri blend of mandarin, jasmine and rich amber.  This sensual fragrance includes undertones of sandalwood and musk
Little Black Dress-

Roman

tic blend  of  Anjou pear, papaya, sugar cane, and white musk.
Sunshine-

Revitalizing blend of Citrus, Lemon, Lime, and Grapefruit, with hints of  Jasmine, fresh Cucumber and a touch of Pineapple. 
White Tea & Ginger-

Refreshing blend of Bergamot, Lemon, Ginger, Nutmeg, Peony and Musk
Opulence-

A blend of bergamot, neroli and ambergris.
Opulence Noir- 

Floral notes blended with musk, bergamot, neroli and ambergris
Size: 2 oz
NOTE: The ingredients in this product tend to melt in hot temperatures. To minimize this, please monitor your tracking numbers so that it is not sitting in a hot mailbox during the summer months. In the event your product melts, you can put in the refrigerator and it will solidify. The texture may change, but the moisturizing properties will remain.