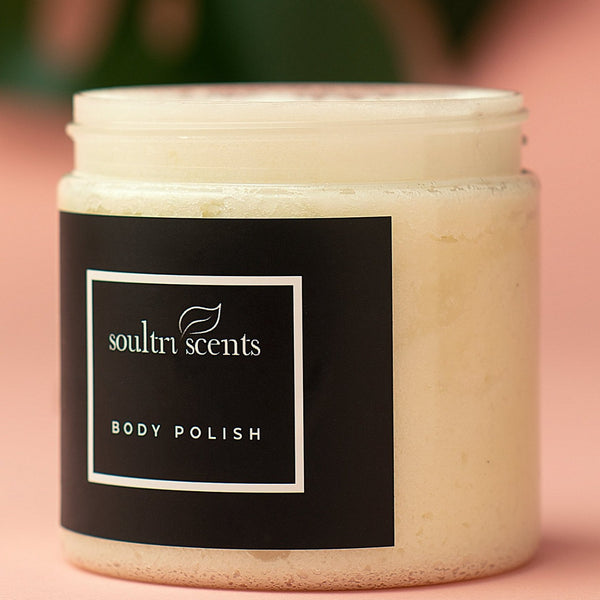 This exfoliating body polish is whipped to perfection and  instantly makes your skin soft, smooth, healthy, and vibrant. This product provides an effective scrub without aggravating the skin, buffing away dead skin cells to leave the body with an incredibly soft feel.  Made with Sugar, Shea Butter, Coconut Oil, Olive Oil, Jojoba Oil and Fragrance Oil
Size: 16 oz

Scent Options:
Soultri- Sweet and Soultri blend of mandarin, jasmine, and rich amber.  This sensual fragrance includes undertones of sandalwood and musk
Little Black Dress-

 Roman

tic blend of  Anjou pear, papaya, sugar cane, and white musk.
Sunshine-

Revitalizing blend of Citrus, Lemon, Lime, and Grapefruit, with hints of  Jasmine, fresh Cucumber and a touch of Pineapple. 
Ritual-

Refreshing blend of Bergamot, Lemon, Ginger, Nutmeg, Peony, and Mus

k
Opulence-

 A blend of bergamot, neroli and ambergris.
Opulence Noir- 

Floral notes blended with musk, bergamot, neroli and ambergris
My favorite body products
I have tried all of the Soultri Scents!! I love them all, but my favorites are course Little Black Dress, it's sexy and romantic! Next up is Soultri, and of course Sunshine(everybody loves the sunshine) 🌞. Customer service and products are 5 ⭐️!! You won't be disappointed!
Sultri is fantastic!
I recently bought the Soultri fragrance body butter at Delta Sigma Theta Sorority Incorporated event. I'm not sure what I was expecting but it is fabulous. Smooth, silky, moisturizing and the fragrance is absolutely amazing. I love it and have recommended it to several of my friends. So glad I bought two.
I looove my Soultri Scents
I first purchased at Essence Festival this summer after meeting the owner as I was checking into my hotel. I purchased Body Polish and Body Butter in Little Black Dress & Soultri fragrances in New Orleans. Since then I've ordered & received both via mail. I just looove the products especially the Body Polish.
So good!
It's really nice and the scent is so good! It fills the shower and it's like a spa experience at home.
Happily Surprised!
Honestly, I wasn't sure what the difference between a scrub and a polish were until Soultriscents. When I used the body polish for the first time, I couldn't stop rubbing my hands! So smooth, so soft, and MOISTURIZED. At that moment I understood; the polish doesn't dry your hands out, but leaves just enough moisture on the skin that you don't need lotion afterwards. I am so pleased with this product, I will be back for more!